The lovely Carolina Bride was sweet enough to pass this award on to me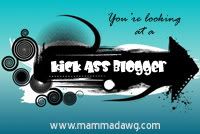 So I need to pass this on to 5 Kick Ass Bloggers. Here goes:
Miss T
A Los Angeles Love
Burning River Bride
Party Planner Gal
Salt Says
You guys are all awesome! Pass this on to 5 more bloggers!